Here are some of the trusted tools that Jenn uses in her own business and with her clients
Please note that some of the recommendations below are affiliate links
Later is the all-in-one social marketing platform for the top social networks.
Plan, analyse and publish your content in a few clicks – so you can save time and grow your business.
Start with their forever free plan and then move up to one of their paid plans when ready (or stay on the free plan forever).
Find new customers, build brand loyalty, and create great customer experiences throughout the entire customer lifecycle with ActiveCampaign's best-in-class email marketing and automation solution.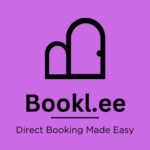 Booklee makes beautiful-looking, high converting booking landing pages which are super accessible and easy to set up. 
There is absolutely no technical skill needed to build a booking landing page! 
Simply paste in your OTA link, drag and drop the content you want… and viola, you have a booking landing page. And to sweeten the deal… we'll even build the page for you! 
Having a booking landing page makes it so easy for your Instagram followers to book when you use it as your link in bio. You can use it complimentary to your website or even as a standalone website.
Get 15% off – use the coupon code: DBS
GUEST VETTING AND INSURANCE
The all-in-one risk management platform for property managers. 
Know Your Guest offers a complete solution providing you with all the tools and features needed to manage guest-related risks effectively.
Enter the code DirectBookingSuccess in the 'where did you hear about us' field.
PROPERTY MANAGEMENT SYSTEMS
Bookalet is an established, simple and powerful property management system with a 30 day free trial.
Some of the benefits of using Bookalet are:

• take control of all your bookings in a single location
• add sophisticated booking forms to your own website
• configure different pricing models for different seasons
• add flexible discounting to incentivise guests
• include optional extras to maximise revenue
• securely take credit card payments
• automatic payment reminders to guests
• save time by automating the entire booking process
Why use a digital welcome book?
Digital welcome books allow you to answer your guests' questions easily and in a way that works for them. 
When you do this, three amazing things happen…
• You become more efficient
• Your guests feel empowered
• You get rave five star reviews